Hi,
I made crease brush like sculptris.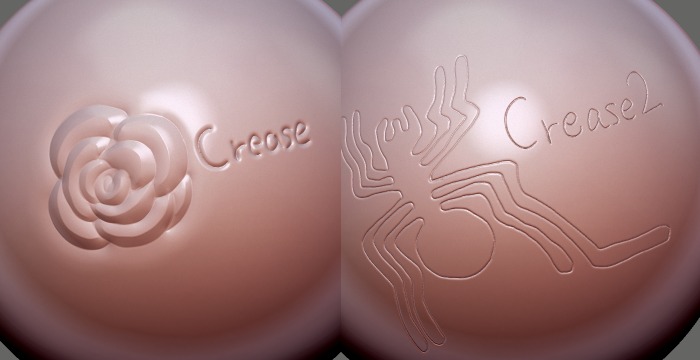 Here is my first custom brushes for zbrush friends.
Thanks for watching.
This should be useful. Thank you so much.
These two things have already changed my use of Zbrush, THANKYOU!
GRIN!!!
I find it astonishing how your brushes changed Zbrush. Im using sm crease and its just like Sculptris with the exception that it dosent add mesh where I want it to, but that is fine, it honestly dosent matter much…
Do you think you can do any of the other brushes?
To me Sculptris is the ultimate sculpting tool, Zbrush has been less than fun till now and mostly a finishing tool for Sculptris work.
I cannot thank you enough for fixing this!
Now if the movement tools only worked the same!
GRIN!!!
Thanks!
Mealea
GRIN!!!
What timing!
but no:
Thank YOU!
I am waiting this brush appeared in ZB for a long time.
You are so great!!

you are the man
Gotta say the crease brush is a win!!! You must have had me in mind when making it.
thanks again

Thank you.

Awesome Brushes! Certainly helping me create more interesting angular effects.
That is about as good as it gets. I love sculptris and now you brought it into zbrush. Hyperly appreciated!
I am not able to download the files. Is the link alive? Can you please re-upload? Thanks…
link is alive, worked for me. Just downloaded them.
Worked for me too, now I have two copies!
Thank you. Just what I was looking for

Did the link to these brushes disappear? I wish I could see the link.

I want the SM-CREASE and SM-CREASE2 brushes.
I would like to receive a link again.