THE GUN.
First post. Second model.
Jean Giraud alias Moebius fan art. Major Gruberts Gun, from the cover of Le Garage Hérmetique.
Started as a class project from Paul G, some time ago to make a Gundam WITH a girl.
My mind wandered, (tangent time) and i saw my very slender and scantily clad, fighter pilot, alien hunter girl, holding some kind of cool gun, with Gundam far off in the background. Her gun perhaps hanging from her hand, in a casual, but prominent manner.
My mind seemed to get stuck on this image in my head and a gun. Then i remembered Jean Girauds (Moebius) cover from Le Garage Hermétique (The airtight garage). Major Grubert, sitting proudly with his gun on lap and green trophy in the background. So i searched high and low for any good reference pictures. Especially of the gun. I could find only one.
It was Paul who said "Just put it out there for all to see, Go for it. Include some information about how you did it".
So here it is everybody. My second and downloadable public model. THE GUN FROM LE GARAGE HERMETIQUE.
…and comparison, My ZBrush model LEFT, Jean Girauds gun RIGHT.

…4 views

…The view in my mind hanging from hand.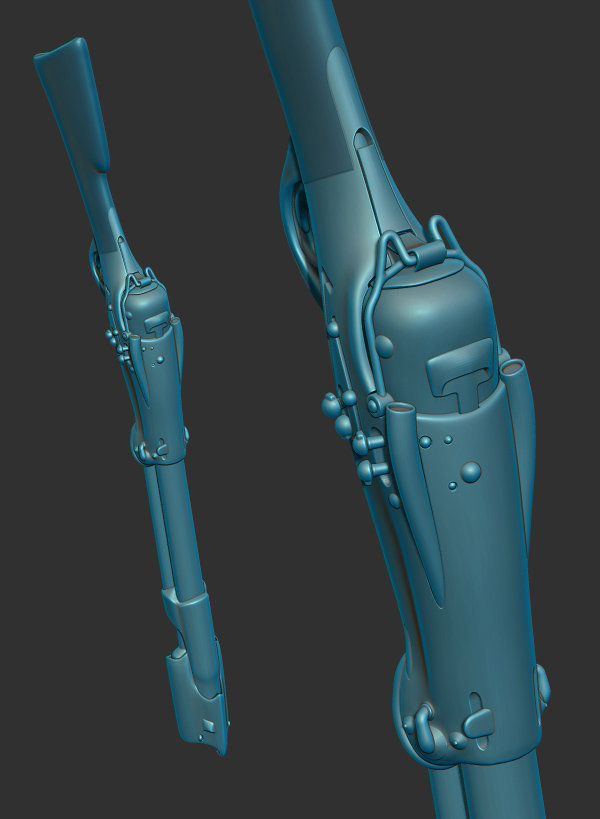 … iso rear view.

… things that helped me and things i used A LOT.

I used…
Dynamish for the main body.
ZRemesher also here.
ZModeller brush for nearly all the rest.
Dynamic subdivisions.
The new boolean features of ZBrush 4r8 came just in time to save time and my marriage.
Panel loops separate the butt from the stock.
Curves along surface for some matching up of long holes.
Very early decided angle of view 35degrees matched to the Spotlight image from Moebius.
Spotlight opacity used a LOT.
Adding the click to solo to the second button of my Wacom pen helped.
Timeline was activated and very welcome for flipping through views as i worked.
Many of my stumbling blocks as a newer user were solved through taking a class with a master of ZBrush. Sold my gold for that one and it was worth every penny.
I bought the program after the second lesson. I was hooked. AskZBrush helped too and still does.
The model took me an embarrassingly long time but my excuse is not lack of desire but time.
Work as a CNC operator, Robot programer, Husband, Father of 4 and a lively English bull terrier called Dolly.
For my second model made with ZBrush i am pretty happy. I do hope its well received and not laughed at too much.
The hook on the end i battled to get straight but have learned to like it and add it to my mental imagery of The major using his gun.
Made on a MacBook Pro 2007 with 4gig RAM memory.
It crashed a lot and would not allow many millions of polys. Toward the end my screen went black a lot. Limitations of an ageing mac.
RSB Dirty Blue matcap
… and The GUN.
An original published Cover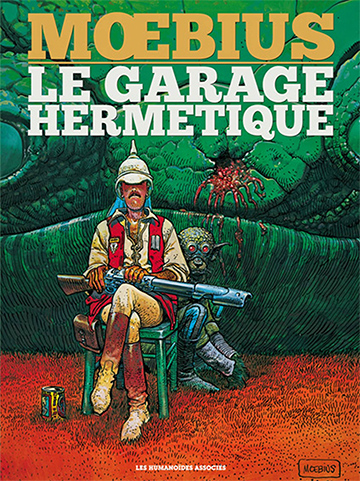 Attachments