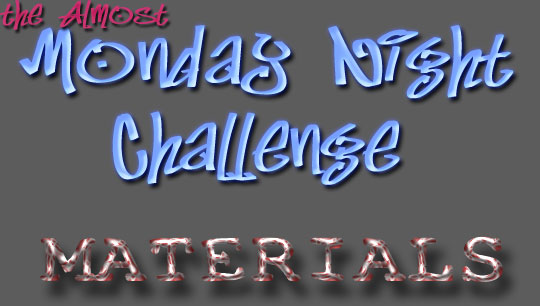 Hi everybody.
Thanks to Svengali we have a great little plugin called Zmats! If you don't already have it…get it here! This is gonna hopefully be very useful for you and your fellow challenge takers to hold some new cool materials.
This week's challenge is going to be left open so that if you create a new great material in the future you can post it here so Pixologic and fellow zbrushers can find it quicker!
Anyway this challenge is to challenge you guys to create some materials. We will start off with some categories and if you can think of some others…we'll add em too. So…
here are some categories of materials that might be useful to fellow zbrushers:
The Ultimate Skin The Ultimate Metals
The Ultimate Wood The Ultimate Marble
The Ultimate Water The Ultimate Glass
The Ultimate Terrain The Ultimate Stone
The Ultimate Fabrics The Ultimate Alien
Rules:
If your material is dependent on a light setup…please post that up as well. Also tell us the render settings you used for that best render!!

Please post an example of your material at work!

If you learned something about any material settings, please share those too! Specially if you used any special curve settings.

Also if you used a material that is color dependent, let us know what the rgb color settings are.

You can start a challenge within this challenge…for instance…if you are having trouble creating something like in this recent thread then by all means challenge your fellow Zbrushers to create it!!

OOPS! Almost forgot the most important part…
Please please please…include your nick in the name of the material so that we might give you credit later on when we use it!!! for example …
Jantimswaycoolpaintedmetal023.zmt
This and all MNC challenges are open to everybody!! Newbies…if you discovered a new cool material…share it with us…all you vets out there have learned something along the way…please give the rest of us some hints!!
This mission, should you choose to accept it is for fun and bragging rights only, ZBC and Pixologic have nothing to do with it other than allowing us to have fun with their fantastic program, no prizes other than the pride and kudos you get from creating something cool and if your lucky some kudos from the likes of Meats and Antropus etc.
Good luck and have fun exploring!!