Hi everybody,
time for something new, or better I think it's something new:
A very quick & high quality alternative to displacement & Normal Maps
We all know the usual displacement maps like this one (taken from my model here:
http://www.zbrushcentral.com/zbc/showthread.php?p=456996#post456996 ):
[attach=94644]Kopf_Dispmap_Klassisch.jpg[/attach]
But has anyone ever produced this kind of map in ZBrush?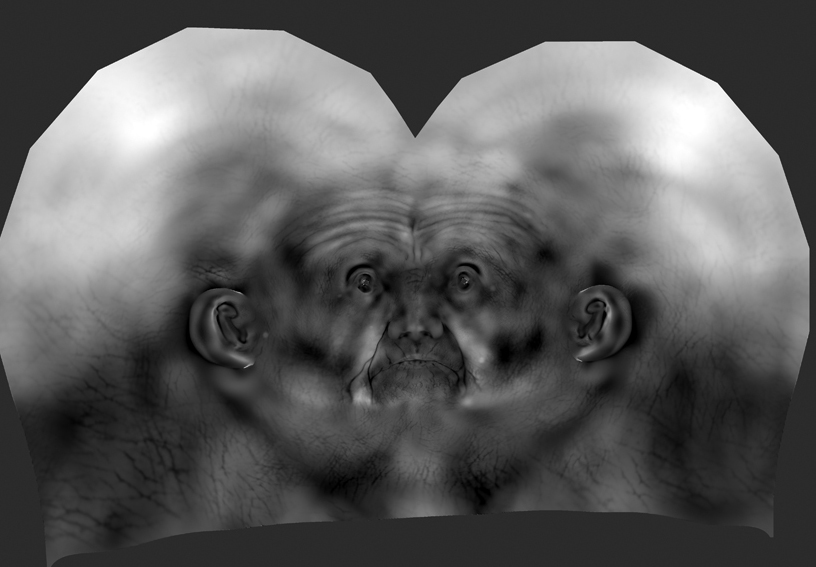 :eek:
I first thougt this was trash, but wait a second:
This baby contains all my even finest modelling-informations as grayscale-map.
But it is definetely not a usual Dispmap, so I called it simply my 'Specialmap'.
But what is so special about it ?
Well, you can use this little gimmick in several tricky ways.
First, this is an extremely high-quality bumpmap that contains all real modeled details.
So from now on I can do any high-detailed models completely as a sculpt, no more need to create additional bump-maps with projection master.
But what is that good for, Normal-maps are pretty the same as bump-maps and can easily be created out of usual Dispmaps. :rolleyes:
Yes, that's right, but look closer to the quality of this Spezial-Map.

This one is by far better than any Normal-map I have ever created.
And especially for VrayforC4d-users like me, Normal-maps do currently not work in VrayforC4d, so this way is definetely the only and best way for me.
The original ZBrush-model:
[attach=94650]Old_man_ZBrush.jpg[/attach]
And the render in Vray using the Special-Map as a Bumpmap on a subd-level-4-mesh:
[attach=94653]Old_man_Vray.jpg[/attach]
The quality is quite the same as with displacement, I would even say slightly better, and by far better than usual Normal-Maps.
And look at the render-time.
And best of all, that's not the only thing you can do with this type of map.
I tried to use it as specular-map and a base for color-maps, the first results look promising.
All in all, this kind of Gray-map has enormous potential and is at least for me not only a new, but also a very quick and high-quality alternative to displacement and especially to usual Normal-maps.
When I have finished my actual project of 'The thinking old man' ( http://www.zbrushcentral.com/zbc/showthread.php?p=456996#post456996 ), where I will use this kind of map for the first time, I can post the step-by-step of how to create this map-type in Zbrush, if someone is interested in it.
Attachments