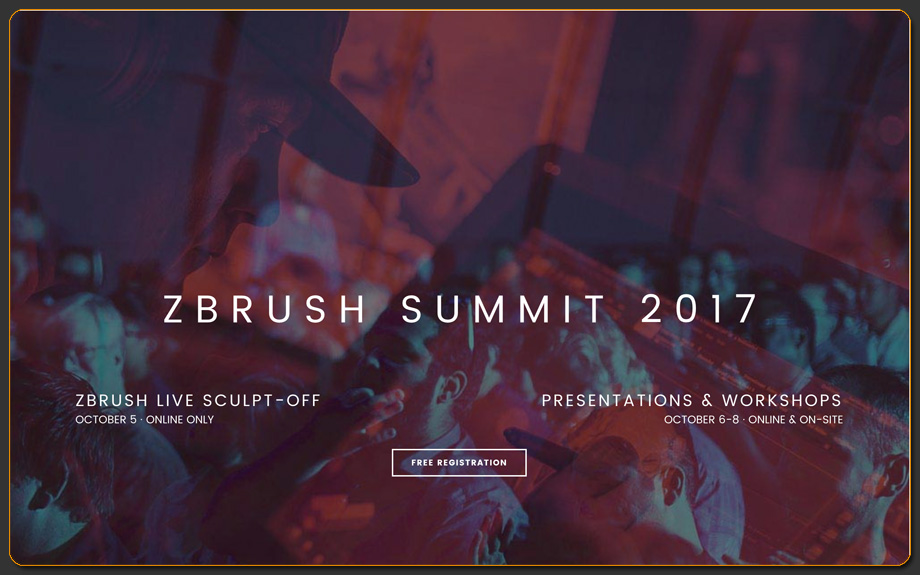 The 2017 ZBrush Summit is only a few weeks away!
The ZBrush Summit is a 3 day event happening October 6 through 8 in Los Angeles, CA and streaming LIVE around the world.
You can look forward to presentations from top ZBrush artists, the Live Sculpt-Off, interviews, contests and the annual ZBrush Awards.
There will also be ZBrush Workshops taught by some of the most prominent artists in a variety of industries! Whether you are interested in VFX for film, video game asset creation, character design, or simply want to sharpen your ZBrush skills, you can learn from the best in the business with this special opportunity. Workshops have limited availability must be registered for in advance. You can learn more about them and reserve your seat at the ZBrush Summit Workshop page.
WORKSHOPS Saturday, October 7th
Shane Olson: Creating Stylized Characters - SOLD OUT
Seth Thompson: Sculpting and Texturing Ornamental Props - ALMOST GONE
Furio Tedeschi: Creating Hard Surface Concepts for Film and Video Games - SOLD OUT
Sunday, October 8th
Dan Katcher: How to Make a Dragon Portrait - ALMOST GONE
Michael Climer: Hard Surface Modeling with ZBrush 4R8 - SOLD OUT
Jared Krichevsky: Creative Workflow
In addition to the exclusive workshops, the ZBrush Summit will be offering a full slate of live presentations that will be streamed LIVE around the world. Of course, the best seats in the house are in the studio (there's nothing like being there in person!) but no matter where you are, you can be in on the action. You can even communicate directly with the presenters via social media and possibly have your questions answered live.
Can you decipher the encrypted message?
PRESENTATIONS Friday, October 6
Creating Creatures from Concept to Final Render - Featuring Damien Canderle of Blur Studios.
Sculpting Stylized Vinyl Figures with Funko
Sketch-2-Screen featuring the team from Aaron Sims Creative
The Character Art of Horizon Zero Dawn
Saturday, October 7
Hard Surface with ZBrush 4R8, presented by Cki Vang
Marvel Studios Presents
Weapons of Destiny 2
Dan Katcher, Character Creation in ZBrush - an Inside Out Approach
Sunday, October 8
XM Studios
Design for Production - Descendents 2 Disney
EA Motive
The Art of Shadow Warrior 2
Sign up here to get on the official ZBrush Summit mailing list and be among the first to be notified about all Summit-related announcements!
We look forward seeing you there!