fracture…THANK YOU for the feedack…Much appreceated and needed.



I don't do much drawing with line these days …I prefer to rough out my ideas and thoughts directly in 3d sculpture…It's just closer to the way I see and imagine visions…I paint in 2d the same way…no line, just volume.
Originally, I had thought about doing a rendered out realistc human heart for this concept, but decided against it…I remembered what Frazetta said about showing violence in his art…He said something like…It is better to describe what is about to happen than it is to describe the actual event of it happening …This form of description leaves it up to the viewer to complete the event in their own imagination…


A little furher along with this thought.
Crits, Suggestions, and Opinions Always Welcomed and much appreceated.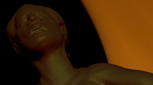 Attachments