Great job Taron …
Love the eyes, teeth and the others …
Really fantastic.


small_orange_diamond

small_orange_diamond

small_orange_diamond

small_orange_diamond

---
Thanks, Captain!


Here's a version with a bump map… I think that's enough for today!

![baldrian10_col01.jpg|975x1058](upload://rndDOBvbFH0p4csPvtaOqQJKGEh.jpeg)
One of you're best works so far! i love the expression & details in the eyes, really set of by the multiple materials. very nice results!
Taron
Version 0.12 needs to be laptop compatible OK!! stamping feet!
this is sooooo Unfair :lol: bud really good texture and materials on your new piece Daggnabbit.
All versions have been laptop compatible but they have not always been Ati compatible.

Acer Aspire 5738G
hehe, thanks guys!
Well, with laptops it's more commonly an "Intel Mobile" issue, as those cards are rather a gimmik and not meant to support openGL properly, I guess. ATi should be fine by now, but, please, report any troubles you may have with MaCrea running on ATi!?
…I have no hope for intel mobile, though. Maybe one day I will have a look at a software only rendering solution. It's just work and the result is a slower version, so I'm not too keen on getting there, but we shall see. THANKS FOR THE PLEAD, THOUGH!

Runs great on my ATi (4xxx series).
Just in case my post was misread it runs great on my Acer Aspire 5738G with its Ati HD 4570 512mb graphic card.
Goody! It would've scared me plenty, if it wasn't!
I've also uploaded a new version with a few optimizations and one little bugfix. (version 0.11b)
Just download the rar again. I keep updating the same file!
Would it be possible for someone to email this to me? I can't access the file because downloads are blocked. I can get attachments to work through my email fine though.
If someone could please send the latest version to me(20percentoff - gmail.com) I would be very grateful.
How are the blocked for you? Norton or some sort of virus protection? I'd call that irony and a beautiful analogy to exaggerated security concerns, but I shall send it over to your email, no problem!
Check your email!
Version 0.12 is out!
Changes:
Reflection image diffusion has a new mode "R", which corrects the distortion of the image for a proper gradual adjustment of the diffusion from reflection to global illumination. It's not perfect, but a very useful approximation.

process runtime optimized. It's now better integrated into the windows tasks.
Unfortunately, it's not something as easy as a crappy program blocking my access. It's the way my network is managed. I can only use the internet at work, and a lot of stuff is blocked. I wouldn't be surprised if they blocked this site in a couple days.
Thanks for your efforts Taron …
really appreciated


My pleasure, CaptainNemo!
FatherChristmas, I guess then we'll have to talk really, really nice and praise your leaders a little!

…:o
…anyway, you've got it in your inbox now!
Am I the only one who like to make abstract art using this tool? Lots of fun, thank you for allowing weird value ranges

This is an alien solar system, to the best of my knowledge. Direct output from MaCrea, apart from cropping.
![solar.jpg|509x341](upload://kNzAPfFoQu9pZWe6C3rbeaOIOI.jpeg)
Rawr, this isn't working for me. I go into the file, I click on the little icon and an error message appeares… it says "EXCEPTION_ACCESS_VIOLATION". HELP! :C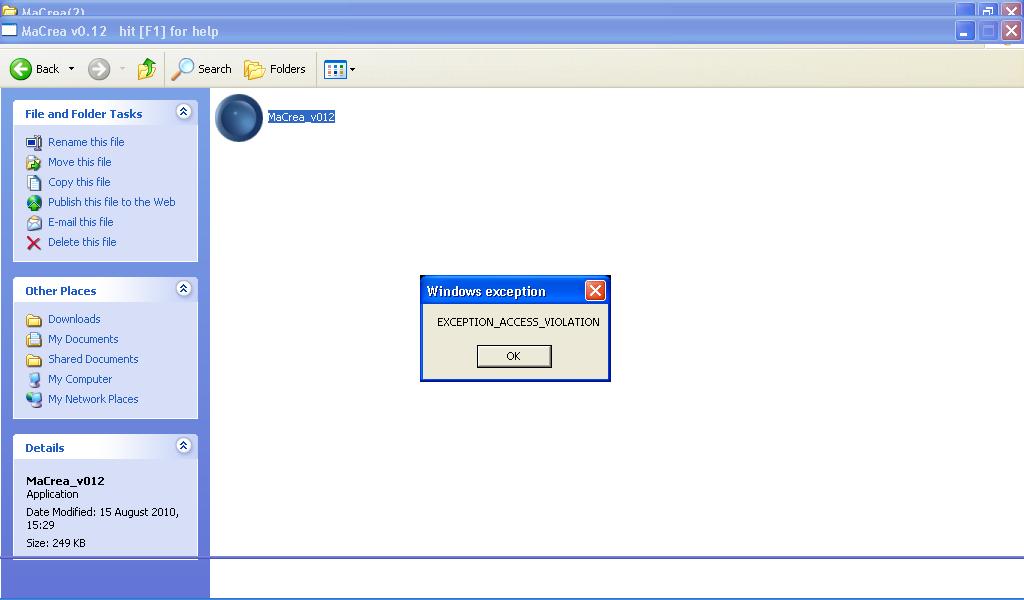 Ooooh that's pretty, DrPetter! Looks very elegant, actually. :o
Of course you know how to make a developer happy, haha, just listen inside yourself, but you've really left for me a piece of happiness right there! :lol:
Drakue, hmmm, I can't think of any reason for this. Tell me your system setup (GFXboard and OS) and I might get an idea, but it's the first report of its kind to me, I think.
cmcc, I have no idea what the virus mafia wants and I've got no intention to bow down to it. I believe for now you've got to define it as harmless yourself. If someone knows or wants to tell me what I could possibly do to convince Norton or McMonkey or whoever that this app is nothing to worry about, I'd try my best to put it in.
…other than that: YOU'RE WELCOME!

Any chance you could send out that email Taron?
I have connections… Just send me 100 000 $ via PayPal and I'll sort it out for you… he he he.