I just watched your new video. impressive results. Looking forward to this! Hope some portions can be ported to the Mac so that I get to use it as well.
Very great!
Congrats on version 1.0 release, instant buy. Thank you!
Everything is ZScript except for the Filters section, so everything else should work in a Mac but Honestly, the filters are the best part . I think I will make the Mac Version very soon, so I would wait…
Congratz Dargelos, i just grabbed my copy but tbh the price is very low, i would have pay the twice or even more


will give you some feedback when i had some time for testing great work anyway.
Some people experienced an error with the filters because some visual C++ packages are missing in their computers.
To fix this, you have to install the packages Here.
Sorry about that.
it's great
do i put the plugins in 64 and 32 folder, or is it only 64 bit?
ok, sorry, 64bit it is.
This looks amazing and would save me so much time!
Looking forward to using it when the Mac version is available!

Erosion and Hydraulic Erosion filters…
Awesome plugin once again Ignacio! Super fun to create terrains with this tool!

small_orange_diamond

small_orange_diamond

small_orange_diamond

small_orange_diamond

small_orange_diamond

small_orange_diamond

Excellent!
Unbeatable for this low price.
Thank you so much.
Finally!
I could put my hands on a MAC and the OS X version of terrain tools is ready. Let's hope it doesn't have too many bugs.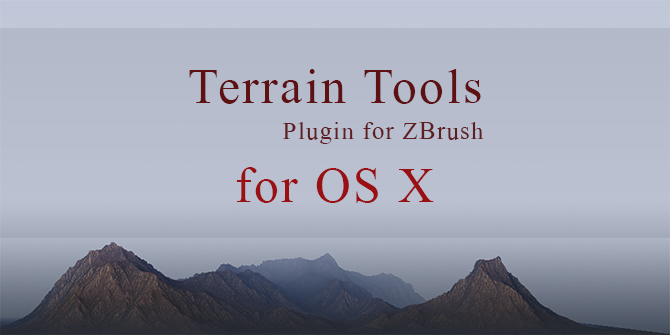 GumRoad Link Here: https://gum.co/Pbzmy
Awesome, thanks so much for the Mac version!

Just got it, I'll let you know if I hit any bugs!
Hi
I just purchased for OSX. Opening the plugin, the interface has a series of "?" (question marks). Is there a solution?
Thanks much! I cant wait to use this!!!
did you have the TerrainTools.ZSC and TerrainData folder in the same location? To install the plugin you have to copy the TerrainTools.zsc file and the TerrainData folder to ZBrush4r7/Startup/ZPlugs64/
Looks awesome! Just bought it, look forward to new features and updates in the future! Do you need any inputs on terrain generations in case if you are thinking of future updates?
Yes, I totally need that kind of feedback. And don't worry about being critic. I have to admit I wasn't pursuing any practical goal. It was more like thinking wouldn't it be cool to have some kind of erosion filter that added realism to a terrain I can sculpt or paint on 2.5? …
Bought your plugin yesterday. Many thanks for your effort and for the generous price. feedback wise, if you wanna do miracles make the tool to work on multiple tools (something like4x4 tiles) when translating in 3D. I never tried to work on a 16k 2D document, maybe its possible. I wont have access to my computer for about a month, so no joy to play with it.

Again, many thanks!